20.05.2015
Energy saving, weight reduction, the creation of new material properties – nanotechnology has enormous potential, which companies can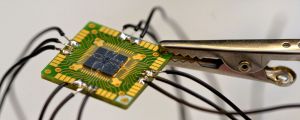 make use of. But how can it be realized? Both ways, from the laboratory to industry and vice versa, nano-technological applications face a bumpy road and only a tiny part of them will be actually implemented in the end. So what can be done to ensure that promising applications do not fall by the sideway? The role of an Expert in Nanotechnology Exploitation (ENEX) is to create a linkage between research and industry, to boost and promote transferring of technologies from Science to Economy and Industry.
For this purpose, several European partners, including three Universities, one Research Institute, one Regional Economic Development Foundation and one private consulting company, joined forces with the aim of developing training courses for graduates and professionals. The concept of the new qualification course is based on an interdisciplinary approach that combines nanotechnology learning modules with content from the innovation management. The course will be provided in a form of Open License e-learning course via an Internet platform and is sponsored by the European Commission with funding from the Erasmus+ program over a period of three years.
ENEX web presentation is intuitive, interactive and informative. Under www.enex-nano.eu the user can find a clear page layout and modern design. The new website of ENEX bundles the most useful information about the project in a compact and user-friendly way. Newsletters, a calendar and all current events can be found directly on the homepage. The international background of the ENEX team is also reflected in the multilingualism of the page. All content is available in English, German, Italian, Dutch, Polish and Romanian.
The ENEX project thrives on new ideas, which can only be implemented jointly. For this purpose, current ongoing activities can be found on the home page.